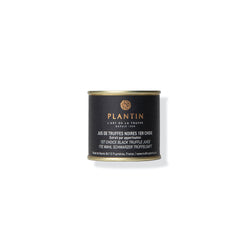 Metal box
The truffle juice is extracted by canning. The fresh truffle during its first cooking will lose between 15 to 20% of its weight in juice.
All the flavors of the truffle are found in this slightly salty nectar.
Tasting advice
Use for your sauce bases

Ingredients
Black truffle juice (Tuber melanosporum), salt

Storage
Dry and away from heat.
< br data-mce-fragment="1">Once opened, keep cool and consume quickly (Tip: You can then individually freeze the surplus using an ice cube tray).