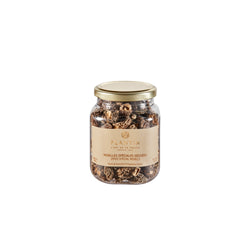 The morel has a nutty flavor with rich woody aromas. Its bouquet and rarity make it one of the most sought-after mushrooms by gourmets.
There are several varieties of morels, but Morchella Conica is the most sought-after, for its excellent fragrance.

Carefully sorted at Plantin it has undergone rigorous selection.

Tasting: As well in a risotto or a chicken with cream, the morel will give a festive flavor to all your creations. Rehydrate for 1 to 2 hours in lukewarm water then rinse thoroughly. Warning: it is imperative to cook the morel before eating it.

Ingredients: Morel - Morchella Conica

Storage: In a dry place away from heat it can be kept for up to 18 months.

Quantity: The Morel rehydrating will gain 3.5 times its weight. 10g of dried morels will be equivalent to 35g of fresh morels.