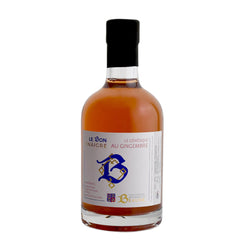 The temperature rises with our Ginger Vinegar! The very "hot" marriage of our favorite wine vinegars, white Chardonnay and red Pinot Noir, gives this delicious aphrodisiac that will make your seafood and your exotic salads even more enticing!
INGREDIENTS
Chardonnay and Pinot Noir wine vinegar.
Ginger Pulp
May contain traces of sulphites naturally present in wine.
A slight deposit is normal for a natural vinegar and in no way affects its quality.
ACCOMPANYING TIPS
Its association with lobster, shrimp or seafood is obvious! It also adds pep to a pineapple salad, for example.
BREEDING


In oak barrels.