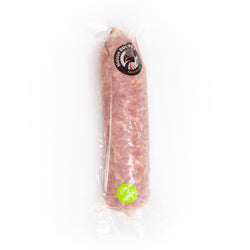 Pistachio sausage to cook
Discover the Maison Duculty pistachio sausage to cook, a typical product of Lyonnaise gastronomy. This product can be eaten hot or cold, as desired.


FEATURES :

The Maison Duculty pistachio sausage is made from fresh pork from the Auvergne – Rhône-Alpes region, mixed with a rigorously selected seasoning. It is then stuffed into natural beef casing before being steamed to bring out the moisture.

COMPOSITION:
Fresh regional pork meat, pistachios (4%), salt, dextrose, spice (pepper), sucrose, acidity regulator: sodium acetate, aromatic plant (garlic), antioxidant: sodium ascorbate. Preservative: Potassium Nitrate.

CONSERVATION :

Packaged in individual vacuum bags, you have 30 days to consume your product. Store your cooked sausage in the refrigerator. Cooked sausages can also be frozen.